When Howard Spiva was 6 years old, his father was murdered.
About Howard Spiva Fights For Those Wrongfully Taken
It was a tragedy that devastated the family. Howard's mother had to be hospitalized, and he and his brother and sister were "passed around," as he terms it, to other family members as they grew up. Although the death of his father was traumatic, however, Howard also considers it a galvanizing event that would shape the course of his life.
"It gave us an early view of what it's like to have somebody wrongfully taken in a manner that's preventable and needless," he says. "That's gone a long way in guiding my career."
Howard Fights For Those In Need
Small for his age, Howard learned how to defend himself against bullies, taking up boxing and martial arts. "I did it in the streets, I did it in the ring, and I kind of do that in the courtroom now," he says. "I stand up for people who have had people wrongfully taken from them or have suffered catastrophic injuries."
A Natural Ability to Defend: Personal Injury Lawyer Howard Spiva
Howard knew from an early age that he wanted to transfer his fighting spirit into a professional career as a plaintiff's attorney. At Windsor Forest High School, he had a reputation as the guy who would step in and represent fellow students who got in trouble. "I was playing lawyer when I was 15, 16 years old," he says.
He started his college career at age 16 as a student at Armstrong State Atlantic University, receiving a B.S. in Criminal Justice in 1980. He needed to work for a year to help with family finances, and then enrolled at the Woodrow Wilson College of Law in Atlanta, where he received his J.D. in 1984.
Although his studies were demanding, Howard found time to pursue other interests. He became a real-estate broker and learned jewelry repair.
Entrance into the Legal World: Personal Injury Attorney
After he earned his J.D. and passed the bar, Howard launched the law firm now known as the Spiva Law Group. He has never looked back. From the start, Howard has concentrated his legal work on representing individuals in personal injury cases. In particular, he and the firm have developed a reputation for successfully handling catastrophic injury cases, and traumatic brain injury cases, oftentimes involving young children and their families.
Big Cases & Big Outcomes: Historical Defense
Along the way, he has guided cases to significant — and sometimes historic — outcomes on behalf of clients. In 2013, he and his partner Clay Davis won an unprecedented $12 million verdict against the City of Savannah after a fallen tree limb impaled their client in the passenger seat of a pickup. The woman lost her right leg and suffered other serious injuries.
Personal Injury Lawyer Howard Spiva Takes Cases Others Don't
That case was also an example of Howard's willingness to take cases that other lawyers are afraid to tackle. Others thought the tragic event might be considered an "act of God," or that immunity protections for governmental bodies might be too much to overcome. But Howard committed himself to the case, showing up at a city council meeting with his client and demanding that the case be settled properly or face a lawsuit "and the war begins." When the city council denied his client's claim, Howard filed suit and commenced to depose 75 witnesses to develop the case. On Aug. 22, 2013, a jury reached its verdict in favor of the plaintiff.
Personal Injury Lawyer: Brain Injuries
Howard's work on brain injury cases has also resulted in significant results for clients, including a $9.6 million recovery against a reckless forklift operator who knocked Howard's client from a ladder and caused serious brain injuries.
Personal Injury Lawyers Involved in the Community: Heads in Helmets
Howard's interest in brain injuries is not limited to his law practice, though. The firm launched the "Heads in Helmets" program to provide bike helmets for children in the community to help prevent brain injuries. The effort has grown into a national organization that has distributed more than 100,000 helmets to children across the country, and Howard regularly speaks on the subject of preventable brain injury — to media outlets, public safety organizations, and lawyer organizations.
Reflecting on his career, Howard is satisfied that the firm he launched is providing the level of service to the Savannah community that he initially envisioned. What that entails, he says, is a degree of commitment to clients that even goes beyond working toward a successful verdict or settlement.
"I listen to people that have been done wrong and look for ways to help them improve their lives, not just get money for them but what to do with the money once they get it, how to structure their life to where it's better," he says. "Sometimes it seems like I spend as much time after a case, helping people put together their financial plan."
Meanwhile, Howard still pursues his interest in martial arts. He has 2,500-square-foot dojo gym in his backyard and regularly teaches martial arts to underprivileged kids.
His primary interest, however, remains that of providing legal services to the people of the Savannah area. "This is our city, this is our home, and we're well-positioned to help," he says.
Cases We Take:
WINNING YOUR CASE: 21 Questions You MUST ASK Before Hiring a Lawyer
Not sure what to look for in a lawyer?
Get Our Book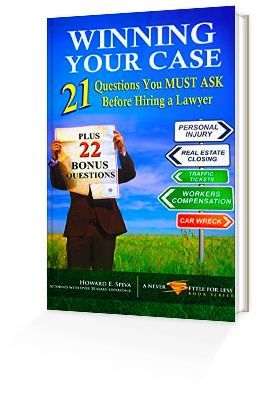 Not sure what to look for in a lawyer?
Get Our Book