Tiffany Henry is the legal assistant in Spiva Law Group's settlement department. In this role, Tiffany prepares the legal documents for the attorneys, requests all the medical records and bills, prepares demands, creates and organizes client files, codes and updates legal documents to merge with the firm's software, and works hand-in-hand with our clients to make sure their legal experience goes as smoothly as possible.
Tiffany holds an associate's degree from Georgia Military College in paralegal studies and is currently attending Armstrong State University, here in Savannah, to complete her bachelor's degree in pre-law with her majors being in Law & Society / Government & Judicial.
Tiffany has received multiple honors scholarships, grants, and awards for her hard work and dedication in her schooling. She became part of the International Honor Society, Phi Theta Kappa Honor Society International, during her time at Georgia Military College. While there, she was involved in the debate team, student government, the college newsletter, and the honor society, all while working a full-time job. During her time at Valdosta State University, Tiffany was accepted into the Honors College for students with an exceptional GPA. She was also nominated to The National Society of Leadership and Success, Sigma Alpha Pi, as well as the Honors Student Association.
Before joining Spiva Law Group in June 2017, Tiffany was an insurance billing specialist. She directed the installation of improved work methods and procedures to achieve agency objectives; actively maintained up-to-date knowledge of applicable state and federal laws and regulations; revised policies and procedures in accordance with changes in local, state, and federal laws and regulations; and observed strict confidentiality and safeguarded all patient-related information. She also spent four years as a sales associate, certified diamontologist, and Third Key Manager, where she exceeded in her interpersonal and communication skills, while improving store, individual, and performance goals to maximize business opportunities.
Tiffany's varied background in customer service, insurance regulations, and legal studies provides the perfect foundation for a legal assistant here at Spiva Law Group.
WINNING YOUR CASE: 21 Questions You MUST ASK Before Hiring a Lawyer
Not sure what to look for in a lawyer?
Get Our Book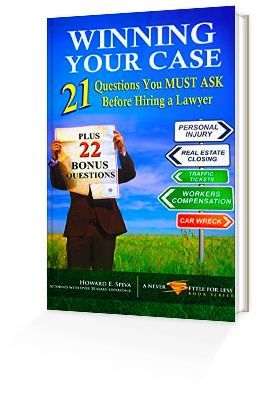 Not sure what to look for in a lawyer?
Get Our Book