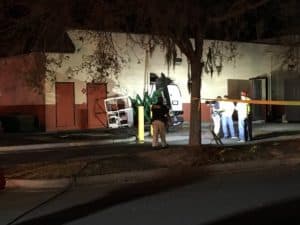 JUSTICE DELAYED IS JUSTICE DENIED
The Outback Tragedy
It is heartbreaking that so many people were critically injured in the car accident at Outback Restaurant incident back in February.
According to TV news and 911 call recordings, no one seems to know the real cause of this tragedy.
In this case we now may never know. Why not? Well, someone may have dropped the ball.
I have learned in over 30 years of helping people in lawsuits, that almost every catastrophic injury is preventable.
Some of these people's lives are changed forever.
Broken bones and serious burns. Catastrophically injured; some may never recover. With hospitalizations, surgeries and lost income, the damage are likely already into the millions and will easily reach the tens of millions.
=====
Let me start by saying:
Outback is an outstanding company.They are not a target of any personal injury lawsuit.They have stepped up 100%.They are caring for their employees both medically and financially, even paying salaries in lieu of workers comp.Outback is an amazing company.
The owner, Mr. Davey James, is a hero. Even while suffering from multiple Burns, he picked up and heroically carried an employee out
I cannot say enough good things about Outback. They are not a target of any lawsuit. The way they have rallied the employees and victims to stand together is admirable.
=====
I first learned of the Outback incident when I was driving down Abercorn and saw the emergency vehicles.
As soon as I saw the scene I was concerned and suspicious.
Based on having many cases, the scene raised some questions:
How did the Van travel over a substantial curb and still maintain a high speed?
How did the Van strategically avoid a tree, a trash dumpster, and multiple concrete posts in the ground?
How did the Van have the speed to completely pierce a concrete block wall with the entire vehicle going into the building?
How did the Van have so much force and speed after traveling over a curb and completely through a block wall to displace a walk in cooler?
Vehicles striking a wall seldom get past the front wheels into a wall.
If this was an accident why was the driver not taken to the hospital and given a blood and alcohol test?
Has he been interviewed and investigated to see if he has any connection to Outback?
Why was he treated and released at the scene?
If he did in fact "passed out", why what was cause?
What caused the accelerator to be fully pressed? Folks who are passed out seldom depress a gas pedal that would be more like a seizure.
Did he have a history of seizures?
Was he under a doctor's care?
Was he on any medications?
If he passed out what is his medical condition?
Has any doctor issued a report or provided any medical records?
Where is the van? Has it been preserved, examined and documented by an independent expert?
If it was a "stuck throttle" has the mechanical cause been investigated?
When the Van was last maintained? By who? Where are the service records?
These are questions I would want to know if I had a loved one injured in this situation. Who is pursuing this?
=====
Next I was contacted by a dear friend in Florida who knows one of the victims and he had some questions. It was then that I learned the extent and seriousness of some of the burn victims, who were in the August Burn Center.  =====
My law firm was contacted by a relative of one of the victims. We were asked to help her and to pursue a lawsuit.
Having handled catastrophic and burn cases for decades, we immediately jumped on what we know has to be done early in such a case to preserve evidence, before it is lost, or hidden, or destroyed.
We believed that the crucial evidence in this case is:
Obtaining and inspecting the van
Evidence and photos of the scene
Video footage from all the surrounding businesses
Body and dash cams from the police
Interview witnesses while it is fresh, and they are still local
Medical and drug testing of the driver
Mechanical records of the van
Following the phone call we immediately undertook to:
Obtain the police report.
Locate witnesses.
Coordinate an interview with local media to reach out to other witnesses.
Did a full investigation and background research and report on:

The driver;
The owner of the van;
The company that employed the driver;
The applicable insurance company.
We located the wrecked van at its temporary storage facility.
We visited the scene multiple times and photographed and videoed the building, surrounding location, and the marks made by the police officers in their scene investigation on the curbs and parking lot.
We told the caller that this case needs a full premise inspection prior to the repairs being completed; they are already underway.
We obtained news investigation photos and videos.
We prepared spoliation letters to be sent to multiple parties to preserve the evidence of videos, the van, cell phone records, etc., for:
The driver;
His employer;
The insurance company;
The wrecker service and salvage yard. The salvage of the vehicle will have to be retained or purchased and examined by hired experts-time is of the essence.
Outback for the store's video;
All the numerous surrounding stores (Home Depot, Lowes, Chick-fil-A, etc.) for their video footage before it is recorded over or lost/destroyed;
The Savannah Police Department on the preservation of the van and their own video footage from car and body cams. The most important thing is the preservation of evidence;
We prepared an open records request to Savannah Police Dept. to obtain all their investigation records and the car cameras from the scene, as well as any police body cams.
With an on-staff investigator, who is a former local police officer, our investigative report is very detailed and thorough and is bound in book form. We discovered some valuable information.
 As with any case, there is significant concern that evidence will be lost, destroyed or disposed of and can be lost forever. These items are imperative in proving fault. Once lost, these are gone forever.
 A law firm on a catastrophic case must have the experience and the resources to act fast. We do.
Such a case almost always requires a lawsuit, the discovery process with obtaining documents and subpoenas. This takes a lot of work, time and money.
Any law firm will need to plan to invest tens of thousands of dollars in investigations.  With experts and a trial, the costs could easily reach in the six figures to obtain full justice.
Major challenges in this case include:
Preserving all the evidence to establish liability and to prove fault on this wreck.
So far the police have not investigated far enough to prove fault. This could be because it occurred on private property or they may not have the resources to obtain all the evidence, which we have mentioned here, including obtaining the van and all the van maintenance records.
What about this driver and his history? Driving record/ Safety record/ Training? Health? Drugs? Alcohol? All these questions need answers.
With so many catastrophic and devastating injuries there will be many claims, and it will be a race to the courthouse. Again time is of the essence.
=====
The victim, as many young people are, is independent and, stated she would select her own attorney.
So we stopped working.
We were honored that her family had the trust and confidence in our firm. We are sad we did not get hired.
We are hopeful someone picked up the ball.
=====
All of these victims need a strong litigation team with a proven record. They need someone with the experience, the recourses and the courage to stand up for them.
They have an important decision. There are a handful of great law firms in Savannah.  I hope they chose well.
=====
For anyone looking for an attorney for any reason, I have published a bestseller book on Amazon,  "WINNING YOUR CASE", that helps a client to understand what questions to ask to find a qualified lawyer. In a catastrophic case, choosing the wrong lawyer can be a disaster. I will provide anyone with a copy of the book at no cost or you can order here:
https://www.amazon.com/WINNING-YOUR-CASE-Questions-Before/dp/1517773717/ref=sr_1_1?s=books&ie=UTF8&qid=1464200147&sr=1-1
=====
In the Outback case we remain deeply concerned over why the defendant driver was not alcohol or drug tested, He was not even detained. He reported minor injuries and then was allowed to leave the scene. This illustrates the lack of investigation by the investigating officer.
There are many more tasks that will need to be done to properly investigate and prosecute this case. It will include interviewing all first responders, witnesses, police personnel and a thorough investigation on the defendant's company and their vehicle maintenance schedule.
Any law firm without the reputation and skill of trying cases will find it difficult to impossible to obtain full justice.
No insurance company pays millions of dollars without a fight from an experienced formidable opponent
I am always happy to speak with you or to travel and meet you in person. We stand ready to answer any more questions you may have.
I wish all the victims a rapid and full recovery medically and financially.
=====
After we reviewed the police reports and our own investigation, we have some serious and legitimate concerns.
This van went over curbs completely,  penetrated a block wall and displaced a walk-in cooler.
That takes significant acceleration and force.
If there was an alleged medical issue, why was the driver not removed by ambulance?
No medical condition was uncovered by the police, only a statement that he could not remember.
Why did he only report minor injuries?
Why was he not drug tested?
Where is the vehicle? Why is it not being tested for any defects or maintenance problems?
Has the van owner company stepped up to accept responsibility?
This is not a fly-by-night company. We have learned much about this company. It has businesses in multiple states and between 60 and 100 vehicles, trucks and vans.
Is the van preserved, stored or destroyed?
Have all the witnesses been located?
Have all the videos been obtained or are they name taped over or destroyed?
The scene, has it been altered and repaired?
The van driver's blood results were they never done and now gone?
I hate to say this, but by not having the van inspected by an expert, not having the driver drug and alcohol tested immediately, allowing him to leave the scene, … someone dropped the ball.
Such cases require early and rapid and action.
It requires hiring experts. Obtaining the salvage of the vehicle, complete documentation of the scene, interviewing all witnesses and victims, obtaining all video footage from businesses and police dash and body cams… It requires tens of thousands of dollars spent quickly.
I hope, for these victims and their family, a competent trial lawyer picked up the ball.
Make it a  great day!
Howard Spiva, attorney
=====
Our Charity
Our Law Firm
Our Web Page
Cases We Take: