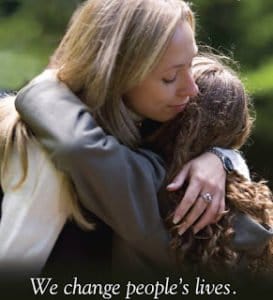 As lawyers we often change people's lives.
Usually it is because we work hard and help them recover money for their harms and losses.
Often times we change their life in other ways too.
Here is one example.
A True Story
This week our office was hired for a family involved in a really bad car wreck. Serious and catastrophic injuries.
The mother, who is in the hospital, was overwhelmed with many concerns and worries that go along with such a tragedy.


Mary Hashemi, one of our attorneys, went to the hospital and stayed with the client until almost midnight to provide her with comfort and assurance, as one mother to another.
After an early morning office meeting, in which we round tabled the case and set up the legal team; Mary return to the hospital along with Andre, a senior paralegal and Ed Spiva our investigator.
Andre joined the Spiva law group over 10 years ago after serving as a paralegal in the United States Marine Corps.
Ed was a police offer for 30 years before joining the law firm 15 years ago.
Mary made sure to stop along the way to the hospital and buy our client a frozen coffee she was craving from Starbucks.
As you might expect, after a serious car wreck the police had seized both vehicles in order to do the investigation and to download the black boxes on the cars.
Our client was stressed out because they were unable to get access to the car to retrieve their child's favorite doll and the children's book bags with books needed for school.
Ed used his knowledge, learned as a police officer, to work out with the police department to release the children's dolls and books; even though the cars were still held in the investigation.
Our clients are occupied with all of the problems that follows a wreck, not being able to work, having your vehicle destroyed, medical treatment and mom still being in the hospital.
The wreck happened in South Carolina so the vehicle remained out of state.
Because our client is in the hospital, the family had no one to go get the children's items, Mary volunteered to drive over to South Carolina on Saturday morning and pick up the items from the police for the family.
Mary stayed up late with a mother who was worried, brightened her morning by bringing her coffee, volunteered her own time on a Saturday morning to drive over and retrieve the children's personal items.
Working with such great team members is just another example of why I am so proud to be part of the Spiva Law group super team!
Service. Strength. Results.
Make It A Great Day!!
Howard Spiva
Our Super Team
George Lewis, Attorney
Howard Spiva, Attorney
C. Clay Davis, Attorney
Peter Ruden, Attorney (NY only)
Christie Register, Attorney, RN. (Of Counsel)
Katherine Lewis, Attorney
Mary Hashemi, Attorney
Kaitlyn E. Sayne, Attorney (Tenn Only)
———
Andres Arroyave, Senior Litigation Paralegal
Ed Spiva, Investigator
Lisa Loyd, Paralegal
Howard "Gene" Spiva II, Paralegal
Trene Reynolds Harris, Legal Secretary
Maggie Doberstein customer Service and concierge team leader and Charity Manager
Michelitza Melendez. Legal secretary
Jen Maceyko, Clerical and Charity event manager
Kelly Spiva, General Manager and VP of Finance
Rosetta Daniel, Accountant
Krystal Brown, Management Assistant
A Proud supporter of
The Justice for Children Foundation
www.headsinhelmets.com
Children's injuries are no accident