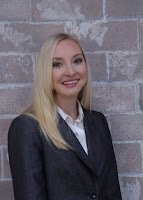 Attorney Kaitlyn E. Sayne (Tenn only) has joined the firm to work on our law and Trial team!
Ms. Sayne moved to Savannah, Georgia from Nashville, Tennessee where she was an associate attorney with Thompson Law Group, PLLC and practiced in the areas of domestic, probate, criminal misdemeanor, and civil litigation law.
Ms. Sayne received both her Juris Doctor and Bachelor of Arts from the University of Louisville, where she was a Duncan T. Boisseau Scholarship Recipient.
Ms. Sayne has been admitted to the state bar of Tennessee and is active in both the Tennessee Bar Association and the Nashville Bar Association. She is also active in doing pro bono work for Legal Aid, Wills for Heroes, and Volunteer Lawyers and Professionals for the Arts. Ms. Sayne plans to sit for the Georgia bar in the near future.
Bar Admissions
Education
University of Louisville Brandeis School of Law, Louisville, Kentucky

J.D. (2013)
Honors: Duncan T. Boisseau Scholarship Recipient
Honors: Moot Court Board Member

University of Louisville, Louisville, Kentucky, Summa cum Laude

Bachelor of Arts (2010)
Honors: Harlan Scholar
Honors: Woodcock Scholar
Honors: Smith Scholarship Recipient
Honors: Hallmark Scholarship Recipient
At the Spiva Law Group our practice is limited to clients who have suffered serious, catastrophic, and crippling injuries. We are happy to have Kaitlyn join us as she limits her practice to personal injuries and wrongful death cases.
Admiralty/Maritime, & Waterway Injuries
Amputation Injuries
Brain Injuries
Car Wrecks
Children's Injuries
Longshoreman Injuries
Orthopedic Injuries
Spinal Injuries
Trucking Wreck Cases
*We do not handle non-injury cases
We now have 8 excellent attorneys to provide you with expert legal counsel. Watch for new team members in January 2016.
George L. Lewis
Howard Spiva
C. Clay Davis
Peter L. Ruden (NY Only)
M.Christie Register, R.N., J.D.
Katherine Lewis
Mary Hashemi
Kaitlyn E. Sayne (Tenn Only)
We are proud to have this Super Star on our team!
Make It A Great Day!!
Howard Spiva
A Proud supporter of
The Justice for Children Foundation
www.headsinhelmets.com
Children's injuries are no accident
Spiva Law Group
Trial Lawyers
1137 Mohawk Street
Savannah, Ga. 31419
(912) 920-2000
www.spivalaw.com
Our Super Team
George Lewis, Attorney
Howard Spiva, Attorney
C. Clay Davis, Attorney
Peter Ruden, Attorney (NY only)
Christie Register, Attorney, RN. (Of Counsel)
Katherine Lewis, Attorney
Mary Hashemi, Atorney
Kaitlyn E. Sayne, Attorney (Tenn Only)
———–
Andres Arroyave, Senior Litigation Paralegal
Ed Spiva, Investigator
Lisa Loyd, Paralegal
Howard "Gene" Spiva II, Paralegal
Trene Reynolds Harris, Legal Secretary
Maggie Doberstein customer Service and concierge team leader and Charity Manager
Sandy Henry, Office Coordinator
Michelitza Melendez. Legal secretary
Jen Maceyko, Clerical and Charity event manager
Kelly Spiva, General Manager and VP of Finance
Rosetta Daniel, Accountant
Krystal Brown, Management Assistant

Service Strength Results.
Watch for our other new team members coming in January in 2016.
The Justice for Children foundation, Inc. is a charitable organization dedicated to preventing children's brain injuries by giving away free helmets to kids.