Originally from New Jersey, Andres relocated to Savannah in 2000 while serving in the JAG office at United States Marine Corps Air Station, Beaufort, SC.
As a former Marine with legal background and his Colombian descent with fluency in Spanish, Andres has been an invaluable resource at the Spiva Law Group PC for over a decade.
Andres obtained a Bachelor's Degree in Legal Studies from South University here in Savannah, GA. He has worked in our Litigation Department assisting our attorneys in litigation cases and in our Settlement Division assisting our attorneys with initial case intake and prelitigation resolution.
Andres has three beautiful children, Tatiana, Ramsey, and Selena with whom he enjoys spending time outside with and searching for adventures around Savannah and the surrounding low country communities.
WINNING YOUR CASE: 21 Questions You MUST ASK Before Hiring a Lawyer
Not sure what to look for in a lawyer?
Get Our Book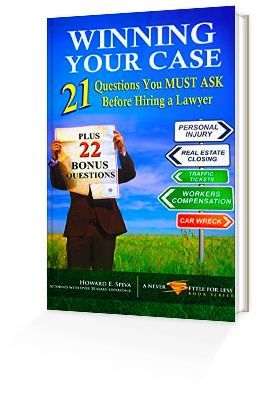 Not sure what to look for in a lawyer?
Get Our Book