Spiva Law Group PC provides professional legal services and employs leading trial experts, on a case by case basis for: personal injury claims, death claims, car wrecks, accidents, serious injuries, disability, injured workers, traumatic injury, brain injury, injuries on waterways, trucks or motorcycle collisions, slip and fall, back, spinal and brain injuries, closed head injuries, scarring, broken bones, chemical exposure, dangerous products, railroad F.E.L.A. and premise liability.
WINNING YOUR CASE: 21 Questions You MUST ASK Before Hiring a Lawyer
Get Our Book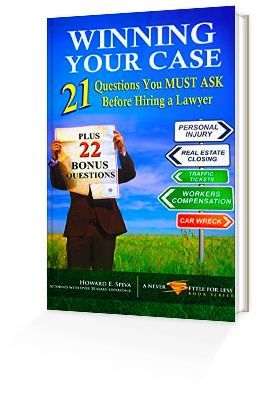 How Do I Choose the Best Lawyer?
Get Our Book