Get Your Free Consultation
Find out what your case is worth! Learn how we have won large financial victories for our clients — with maximum settlements, full payout on insurance policies, and record-setting judgments in jury trials.
Spiva Law Group, P.C. Personal Injury Lawyers Can Help You!
Discover what we do to help you receive compensation you deserve for your physical and financial recovery. Meet our Savannah GA Personal Injury Attorneys — and the Super Team that represents clients in communities throughout Chatham County and Georgia.
WINNING YOUR CASE: 21 Questions You MUST ASK Before Hiring a Lawyer
Get Our Book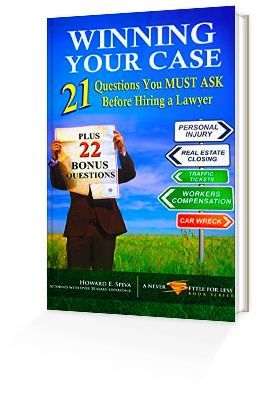 How Do I Choose the Best Lawyer?
Get Our Book