Charlie C. Carlson, III brings a wealth of experience and knowledge to the law firm. Charlie holds a Bachelors in Business Information Systems and an MBA from Saint Leo University.
He served in the US Army as an Non-Commissioned Officer as a Military Police Squad Leader in both Bosnia and in combat in 2003 in Iraq. Mr. Carlson also served in Operation Desert Storm. Mr. Carlson was a Special Agent with US Army Criminal Investigations Command (CID) and has worked with US Attorneys, FBI, and US Marshals Service. He has performed duties in Republic of Panama as Protective Services for the US Ambassador to Columbia and several key military generals.
Mr. Carlson served in the private sector as Director of Security at Memorial Health University Hospital. He also has experience and training in computer crimes, traffic accident investigations, and child abuse investigations.

Aside from the investigations Mr. Carlson also brings a wealth of experience in maintenance and repairs and property management. He has worked as a fiberglass and boat repair technician and commercial pool service technician. He also holds a current CPO (Certified Pool Operators) certification.
Mr. Carlson will be serving as one of our legal investigators for Spiva Law Group PC and will be serving as our maintenance and repair technician for our property management side with Savannah Real Estate Investments.
WINNING YOUR CASE: 21 Questions You MUST ASK Before Hiring a Lawyer
Not sure what to look for in a lawyer?
Get Our Book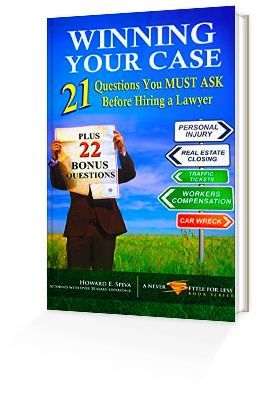 Not sure what to look for in a lawyer?
Get Our Book