Meet Lisa Bowen: Front Office Coordinator
With over 20 years of experience working in the legal field as a litigation paralegal, office manager and bookkeeper, Lisa is happy to join Spiva Law Group as the firm's front office coordinator.  She hopes that her professional qualifications and personality traits will make her a valued member of the team and an outstanding liaison to their clients and the community.
Lisa was born in Bad Kreuznach, Germany.  Growing up a military BRAT, she spent her childhood living between Mannheim, Germany and Ft. Stewart, Georgia.  When her father retired in 1985 to begin his second career, she and her family moved to Bloomington, Minnesota.  After seven years, they grew tired of the cold weather and living away from family, so they moved back to her mother's hometown of Savannah, Georgia.
"Growing up with a parent in the military sometimes seemed hard as a child because we moved every three years.  As an adult, I recognize the invaluable life and people skills I gained from living in that culture.  It made me realize the importance community.  I have friends all over the country who went to high school with me in Germany.  Now we have reunions.  No matter how different our lives are, it feels like getting together with family because we share this really cool connection."
Lisa never meets a stranger.  She enjoys the beauty of nature and art, theater, travel, spending time around the kitchen table with family and friends and supporting her two teenage daughters in their artistic endeavors.  She has also volunteered with local non-profit organizations and is excited to become involved in the firm's charity work through The Justice for Children Foundation.
WINNING YOUR CASE: 21 Questions You MUST ASK Before Hiring a Lawyer
Not sure what to look for in a lawyer?
Get Our Book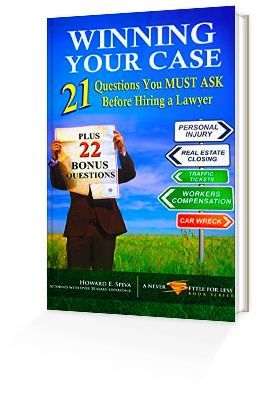 Not sure what to look for in a lawyer?
Get Our Book