As a lawyer in New York, Peter Ruden handled scores of courtroom trials and hundreds of depositions. Since joining the Spiva Law Group in 2006, he has been sharing that invaluable experience with the firm's attorneys, working with them in all aspects of litigation.
A native of New York, Peter received his J.D. from St. John's University School of Law in 1990, taking classes at night while working full-time in litigation for the Port Authority of New York and New Jersey in the Law Department on the 66th floor of the World Trade Center. After graduation, he worked for two insurance defense law firms in Manhattan, an experience that has proven to be invaluable today as he assists the Spiva Law Group attorneys in preparing their cases for injured plaintiffs. "I know how defense lawyers value things, how they think, and the tactics they use," he says. "I know how they're going to react to things in a case."
After his many years practicing law in the New York area, including a number of years working as an in-house attorney with Kemper Insurance, Peter and his wife decided to move to Savannah for an easier pace of life and to raise an adopted child.
He joined the Spiva firm a couple of years after they arrived, and he has continued to serve the firm and its clients ever since.
Contrasting his work on the plaintiff's side today with his former defense function, Peter says his current work is much more fulfilling.
"When I was defense counsel, I was trying cases where, in many instances, people were very seriously injured and as defense counsel, I was trying to limit what they were awarded or trying to defeat their claim entirely. Here, it's a whole different ballgame. It's trying to help the people who have been seriously injured. It is much more rewarding to be helping people who need it."
Although Peter is not currently trying cases, he draws upon his years of experience in working with the other lawyers in the firm when a trial may be looming. He says that the most significant thing he learned as a trial attorney was the importance of maintaining a relationship with jurors that is based on honesty.
"I tried to be honest and direct with a jury, not try to fool them, and let the facts speak for themselves," he says. "I tried to argue the case, but to do it in a very direct manner that can produce credibility for myself and my client in front of the jury. In personal injury actions, credibility is very important — especially for the plaintiff. A jury weights a plaintiff's credibility very heavily, and it is a very big factor in determining whether a jury is going to award for your client as a plaintiff."
Peter enjoys his work at Spiva Law Group because he knows the firm has improved people's lives. "We may not get them back to where they were before," he says, "but we can at least help them cope with the situation they're in now and get them compensation that's fair and that will help them with their lives."
Away from the office, Peter loves to play the guitar — he was in a number of rock bands in high school and college — and relax with his family.
WINNING YOUR CASE: 21 Questions You MUST ASK Before Hiring a Lawyer
Not sure what to look for in a lawyer?
Get Our Book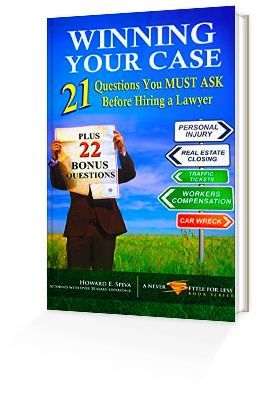 Not sure what to look for in a lawyer?
Get Our Book