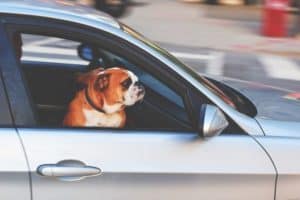 The National Highway Traffic Safety Administration (NHTSA) reported that 3,450 people were killed by distracted driving in the United States in a single recent year. Although the statistics for distracted driving crashes do not usually specify the type of distraction involved, undoubtedly many involved distractions caused by pets.
The New York Times reported that 90 percent of pet owners said they traveled with their pets in the car. A Kurgo and AAA survey of people who frequently drove with their pets found that 84 percent of respondents allowed their pets to ride unrestrained. Pets in the vehicle – particularly those that are not restrained – pose a serious potential distraction.
If you or your loved one suffered severe injuries in a motor vehicle accident caused by a driver who was distracted by a pet, contact the Spiva Law Group as soon as possible. You can have our experienced Savannah car accident lawyers provide a complete evaluation of your case when you call us or fill out an online contact form to set up a free consultation.
Best Location for Pets in Cars
Some people with smaller dogs or cats allow their pets to sit in their lap while driving. This is dangerous because it is impossible to anticipate when a pet might decide to move, become startled, or agitated. Any unexpected movement could cause the driver to react suddenly and divert the driver's attention from operating the vehicle safely.
The simplest way to avoid this type of distraction is to always secure your pets in the back seat or in the rear cargo area of an SUV, van, or station wagon. This will prevent the animal from jumping into your lap while you're driving and will minimize other possible distractions like petting the animal while driving.
Letting your pet sit in the front seat is also dangerous for the animal. Airbags are not designed with animals in mind, so crashes that trigger airbag deployment may seriously injure them if they are sitting in the front seat. Also, animals sitting in the front seat are at greater risk of being thrown from the vehicle in the event of a collision.
Avoiding Distractions Caused by Pets
According to the pet advocacy group Bark Buckle UP, a 60-pound pet in a 35 mph crash can cause an impact equivalent to 2,700 pounds. Not only can a pet be injured, but other human occupants in the vehicle are also at risk of serious injuries if the impact causes the pet to be thrown around the interior.
The most effective way to limit the distractions posed by a pet in the car is to make sure your pet is adequately restrained in the back seat or in the rear cargo area. The size and age of your pet will guide your restraint and pet placement options, but you should still be able to secure them safely and in a place that they will not cause a distraction for the driver.
Best Pet Auto Safety Equipment
People who want to take their pets with them when they travel but also keep the animals safe while minimizing distractions have several options. Petful recommends four ways for people to restrain their pets in vehicles:
Harness

— A harness wraps around an animal's neck and torso to attach to the seat belt. When testing a harness, you want to be sure that your animal is securely restrained to the seat, but you also want to allow them enough room to breathe and make sure the animal's spine is stabilized. Most harnesses sell for between $30 and $70, and they generally last for several years.

Seat Belt

— Most pet seat belts are essentially harnesses created specifically for cars. The seat belts usually integrate with existing seat belt systems in the vehicle.

Booster Seat

— Booster seats are helpful for raising smaller pets to the correct height for harnesses and seatbelts to work properly. The animal will be able to look out of the window from this height, but as the nonprofit animal welfare organization American Humane notes, you should never let pets stick any part of their body out of the window.

Crate

— Not all animals can be restrained by harnesses, but owners can still keep their pets safe by keeping them in a crate in the back seat or in the vehicle's cargo area. With smaller animals like cats or puppies, smaller crates can be safely tucked between the front and back seats. When using a crate, it is critical to secure the crate to the vehicle at the appropriate attachment points to make sure that the crate doesn't move in the event of a crash.
You can find crash safety rating information for various pet products at the website for the Center for Pet Safety.
If You Are Hurt in a Car Accident in Savannah by a Driver Distracted by a Pet, Contact Us Today!
Did you or your loved one suffer severe injuries in a crash caused by a distracted driver in Georgia? Was the driver distracted by a pet in the vehicle at the time of the crash? If so, you could be owed compensation for your injuries caused by the driver's negligent actions.
When the unthinkable happens and you are hurt in a crash, make sure to contact a legal team with the right experience to help you with your injury claim. With a knowledgeable personal injury lawyer on your side, you could recover damages including: medical expenses, lost wages from time missed at work, repair or replacement of damaged property, pain and suffering, and more.
The Spiva Law Group represents people who have been hurt in distracted driving accidents throughout the greater Savannah area. Call us or contact us online to have our attorneys review your case and discuss all of your legal options during a free consultation.