Clay Porter, the stepson of firm founder Howard Spiva, had a solid grounding in the law even before he went to college. "I learned how to think like a lawyer at a very early age," he recalls. "So by the time I got to law school, it was kind of second nature to me."
As an undergraduate at Armstrong Atlantic State University, Clay contemplated a career in criminal justice, receiving a B.A. in that field in 1998. However, he decided to follow in his stepfather's footsteps and enrolled at John Marshall Law School in Atlanta.
Clay Porter Joins Spiva Law Group, P.C.: Personal Injury Lawyer
The big city, however, was not to Clay's liking. So he condensed the usual three-year period of study to two years by taking heavy course loads, and he returned to his beloved hometown, Savannah, in 2000 to join the Spiva Law Group, P.C.
Since then, Clay's practice has mostly concentrated on personal injury law, although he has handled some workers' compensation cases. Along the way, he has had a hand in some noteworthy outcomes, including a $50 million judgment in a case involving injuries to a baby who was shaken by the mother's boyfriend, and another for $12 million involving a fallen tree limb that caused catastrophic injuries to a woman.
Although the big cases are gratifying, Clay derives great satisfaction from the smaller cases as well. He enjoys being able to instruct people on what to expect once they decide to pursue a claim. Oftentimes, he says, people have unrealistic expectations and must receive some good advice on the front end — such as the importance of being treated by a physician.
"I like to take the time to explain the feasibility and cost of a suit," he says. "I usually instruct them that: 'This is your case. I don't want you to make a bad decision because of the bad commercials and the bad solicitations that are out there. You've got to make sure you're making a good business deal.'"
He also possesses excellent communication skills that he first honed while working as a restaurant waiter — a job he loved — during college. "It's one of those arts that transitioned well into law school and into life," he says. "Obtaining folks' trust through communication is one of the best strengths that I have."
Clay serves the Savannah community in his private life as well in his capacity as an active Mason and Shriner, and he enjoys spending time with his family. His interests include fishing, cooking wholesome food, and working out.
Cases We Take:
WINNING YOUR CASE: 21 Questions You MUST ASK Before Hiring a Lawyer
Not sure what to look for in a lawyer?
Get Our Book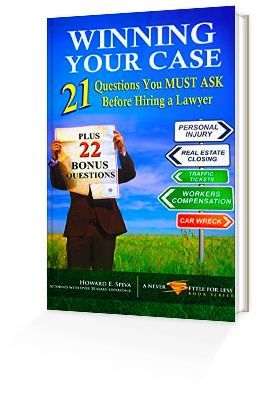 Not sure what to look for in a lawyer?
Get Our Book