Meet Gene Spiva: Personal Injury Lawyer
When Gene Spiva joined his father's law firm in 2018 after receiving his J.D., it marked a homecoming of sorts. Gene had been a presence in the firm since childhood. He remembers falling asleep on the office couch more than a few times when he was seven years old as his father worked deep into the night. Gene later worked for the firm off and on when he got older.
Then, after college, Gene spent four and a half years serving his country in the U.S. Army as a paratrooper before heading to law school and, ultimately, back to the firm he knows so well.
Growing up, he always felt that his future lay in the law. But he also felt an obligation to serve in the military. "One of the first photos of my Dad and myself, he's holding me and I'm wearing a T-shirt that says 'Army Paratroopers' on it," Gene recalls. "I don't know if that's what sparked it or not. I grew up in the '80s and '90s watching action movies and playing with G.I. Joes, but I don't really know what the influence was."
After receiving a B.A. in philosophy from Berry College in 2008, Gene enlisted in the U.S. Army. Following basic training, he was accepted into the Army Airborne School in Fort Benning, Ga., and then was stationed with the 82nd Airborne Division at Fort Bragg, N.C. For the next four and a half years, he was on active duty and was deployed twice — first to Haiti, where he served on the humanitarian aid mission to assist in the wake of a devastating earthquake in 2010, and the following year on a combat mission in Iraq.
Returning to the U.S. in 2014, he began working as a paralegal for a law firm and then received an invitation to attend the Army Paralegal School in Fort Lee, Va. He accepted, graduated with Distinguished Honors for having attained the highest grades of any student, and then fulfilled the rest of his eight-year Army contract by serving as a Paralegal Non-commissioned Officer in the Army Reserve for the next three years.
During that period, he began his legal studies at Mercer University's Walter F. George School of Law, graduating in 2018 and joining Spiva Law Group, the firm founded by his father, Howard Spiva.
Gene has been concentrating his practice, to a large degree, on trucking accidents. "We've all had those moments, driving down the interstate, when a truck swerves out of its lane and you experience that fear, but the fear makes sense because it's an 80,000-pound vehicle and there's no stopping it," he says. "If we can make it our mission to help improve the industry and make it safer, we can go out and share the roads with confidence with them, that would be great. And for anyone who's injured and needs our help, we'll do what we can to help them."
The ability to help someone through a trying time is a highlight of Gene's work as an attorney. "I like the idea that when ordinary people who are in a tough situation come to us, that I can help them navigate a difficult situation, whether it's a common injury or something catastrophic. People have the impression that the insurance companies aren't there to help them, so I like to help change that narrative for them and make it where the insurance companies will help them."
Gene is the seventh generation of his family in Savannah, so his roots run deep. Like his father, he helps to serve his community as a member of the Masons, and is also active in the firm's Justice for Children Foundation, which aspires to reduce traumatic brain injuries in kids by providing free bicycle safety helmets.
In his spare time, he enjoys cooking, working out, and socializing with old friends.
WINNING YOUR CASE: 21 Questions You MUST ASK Before Hiring a Lawyer
Not sure what to look for in a lawyer?
Get Our Book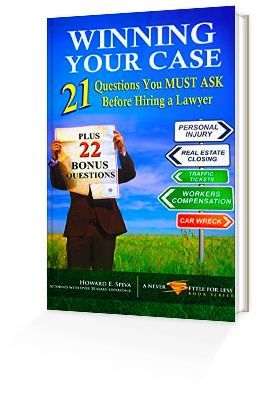 Not sure what to look for in a lawyer?
Get Our Book