Meet Jennifer McKibban: Personal Injury Lawyer
The daughter of two military lawyers, Jennifer McKibban was groomed from an early age for a legal career. Her parents were both U.S. Army Judge Advocates General, or JAGs, and the family moved around quite a bit, including several years in Germany.
While living in various places provided an invaluable early-life experience, Jennifer is pleased that while she was still young the family put down roots in Savannah, a city she loves.
Even though her parents thought Jennifer might best pursue a career in law, she initially imagined a career in psychology. By the time she got her B.S. degree in psychology, cum laude, from Georgia Southern University in 2013, however, she realized that maybe her parents were right after all.
She enrolled in Savannah Law School that fall and embarked on a busy three-year program that included membership in the Environmental Society and the Federalist Society. She focused on litigation and mediation, and served as a volunteer mentor to first-year law students and interned with a local law firm.
Jennifer joined Spiva Law Group in 2017 after she received her J.D. and has been progressing to increasingly demanding roles within the firm ever since. Initially, she served as the office coordinator, but now has a stronger role working with the other lawyers in the firm.
"I talk to clients every day and try to help them with any issues that they're having," she says. "Many times, they're literally at the worst part of their life — the worst thing that ever happened to them is why they are our client. Sometimes clients call and they're upset, and it's not even an issue that relates to us, but we're there for them."
The opportunity to work with people is one of the highlights of the job for Jennifer. "There's an immense amount of work, but I really enjoy what I'm doing," she says. "I like the people and I like the culture of the firm. I feel lucky to have landed in the position that I have."
Long interested in justice for children, Jennifer sees joining the Spiva Law Group as a means by which she can develop a law practice to do precisely that. She was also attracted to the firm because of its charity work through Justice for Children.
In her spare time, Jennifer enjoys reading — particularly fiction and nonfiction books dealing with ancient history — spending time on the beach, biking throughout the islands with her husband, and just enjoying Savannah's downtown area.
"When I joined the Savannah Bar Association," she says, "I read a quote from one of its judicial members, Judge Robert Falligant, that I will never forget and that perfectly expresses my sentiment. He said, 'I'd rather be a fiddler on the coast of Georgia than a harpist in the Kingdom of Heaven.' I am excited to practice law here."
WINNING YOUR CASE: 21 Questions You MUST ASK Before Hiring a Lawyer
Not sure what to look for in a lawyer?
Get Our Book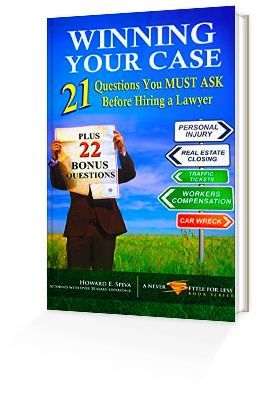 Not sure what to look for in a lawyer?
Get Our Book