Meet Kacie Stephens: Office Coordinator
Kacie Stephens joined the Spiva Law Group in 2018 as the firm's office coordinator, assisting clients and firm personnel alike.
Kacie is a native of northern Georgia and came to Savannah to attend Armstrong State University, where she received a degree in business and economics in 2014. She began her career as an office coordinator in an insurance agency. She came to Spiva in 2018 because she was attracted to working in a firm that was dedicated to helping people in need.
"I wanted a job where I could actually make a difference in someone's life," she says, "and I feel like here, people do that."
Kacie is often the first person visitors to the firm meet when they come in the door. Her duties range from client communication to assisting lawyers. Her goal, she says, is to develop a stronger legal role, perhaps as a paralegal.
"I like working with our clients," she says. "I like that this is more than a place where clients get money, that it's a place where we make a personal connection to them and get to know them."
Away from the office, Kacie and her husband enjoy spending time in the park with their two dogs.
WINNING YOUR CASE: 21 Questions You MUST ASK Before Hiring a Lawyer
Not sure what to look for in a lawyer?
Get Our Book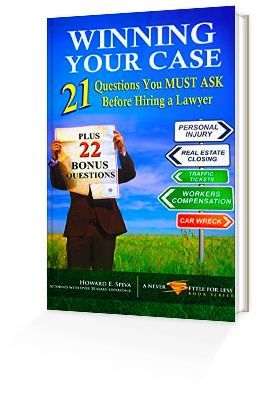 Not sure what to look for in a lawyer?
Get Our Book