Meet Maggie Doberstein: Interim Firm Consultant
Maggie Doberstein is a strong legal professional with a demonstrated history of working in personal injury law and the public sector.
Skilled in Case Management Software, Legal Research, Legal Writing, Public Speaking, Law Firm Team Management, Law Firm Marketing, and Directing Programs for Non-profits.  A recent graduate of Savannah Law School,  she served as an Associate Editor of Savannah Law Review and a Member of Phi Alpha Delta – Telfair Chapter. She plans to sit for the Ga Bar in 2019 and the Louisiana Bar in 2020.
At Spiva Law Group, she works as an interim firm consultant, helping to train an all-star staff, draft and publish policy manuals,  and oversee interactions between staff and clients, to make sure all clients get Howard Spiva's V.I.P. treatment.
WINNING YOUR CASE: 21 Questions You MUST ASK Before Hiring a Lawyer
Not sure what to look for in a lawyer?
Get Our Book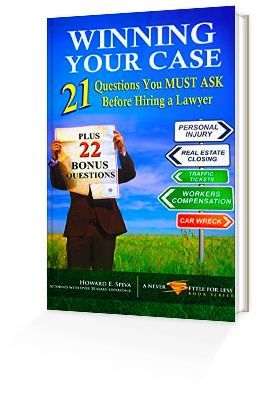 Not sure what to look for in a lawyer?
Get Our Book