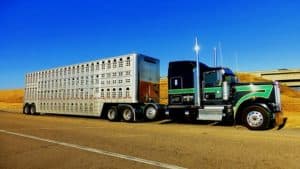 A recent cattle truck accident in Kennesaw left the truck overturned, seven cows dead, and another 12 that had to be captured after escaping. While no people were injured in the crash, accidents like these can cause serious injuries, especially during the summer when livestock are transported more frequently.
Cattle Truck Accident Lawyers: More Cattle Trucks on the Road During Summer Months
The reason that more accidents involving cattle truck accidents occur in the summer months is simple: there are more cattle trucks on the road at that time.
The majority of cattle are sold in the summer and shipped in August. This means that livestock ranchers in Georgia and across the U.S. are transporting cattle at the same time that many families are taking summer road trips.
This increased traffic on the nation's highways leads to an increase in serious accidents. In fact, statistics from the Insurance Institute for Highway Safety (IIHS) show that July and August are the deadliest months, with an average toll of 116 deaths per day.
Georgia Cattle Truck Accident Attorneys: Causes of Crashes Involving Cattle Trucks
Many factors can lead to cattle truck accidents. Cows are large animals and if the weight in the trailer shifts suddenly, the truck and trailer can veer into other lanes or may even overturn.
If the cattle truck or trailer is not maintained correctly or is defective in any way, a serious accident could occur. Tire blowouts, faulty brakes, lighting, and defective hitches can lead to severe accidents, especially if the vehicle is moving at highway speeds. These hazards can be exacerbated if the cattle are not adequately secured in the trailer.
The driver of the cattle truck may be at fault for the accident. A common problem for drivers transporting livestock is fatigue behind the wheel. Ranchers work long hours in very hot weather during the summer. Loading and securing cattle is demanding work. If the truck driver does not get enough rest before driving, they are putting themselves and others at risk.
Other examples of driver negligence include driving under the influence of alcohol or drugs, reckless or aggressive driving, and distracted driving.
How a Georgia Cattle Truck Accident Lawyer Can Help
It is the responsibility of cattle truck drivers and the companies that employ them to be safe while transporting livestock. If they cause a severe injury crash, they can and should be held liable for property damage, injuries, or deaths that happen as a result. An experienced truck accident attorney can help you understand your rights and what compensation you might be owed. Don't wait until it is too late to contact an attorney to file a claim.
If you or someone you know has been injured in a cattle truck accident, contact a personal injury lawyer the Spiva Law Group by phone or online to schedule a free consultation to discuss your case. We're ready to help you evaluate your best legal options for recovering compensation after a crash with a cattle truck or any other type of vehicle.