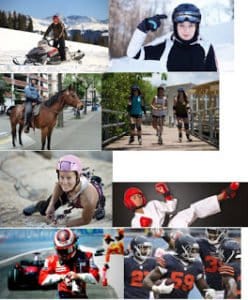 How can parents encourage their kids to wear helmets?
We help parents trying to learn information to keep their kids safe. This is one of the reasons why we promote information about helmets for parents and we show kids that Helmets are cool!
Parents can do what we do. We show kids that helmets are cool!
Our charity The Justice for children foundation and my law firm, Spiva Law Group, we go to community events and educate the public and we giveaway helmets to kids.
Our program is helmets for life. We replace the helmets for FREE, as the child grows. www.headsinhelmet.com
Yes Helmets Are Cool!: We show kids through seeing their hero's wearing helmets
Famous Skateboarders,
Kids doing tricks on bicycles,
Sport celebrities,
Police officers on horses, on motorcycles,
Fireman on their fire trucks,
Military such as helicopters pilots,
Combat Soldier

Super Heros: Bat Man, Boba Fett, Captain America, Iron Man, Kathryn Artemis, Magneto, Darth Vader, Thor, Paw Patrol, Dora The Explorer (Teenage Mutant Ninja Turtles, Tron, Roxy Rocket, Power Rangers)

When a parent is placing their child on a bicycle or in a car ask them: "Do you want to be a race car driver or a Karate girl?… or a police officer? Or a super hero?…"
"We also put Fun stickers on the helmets that each child selects… We often paint them…
It's very rewarding to see kids get all excited about a helmet,
Some parents tell me they won't even take the helmet off in the shower! We carry this message to the community at
Events,
Schools (special needs, kindergarten…)
Churches
Health fairs
YMCA
Parades.
We Make Helmets Cool! We save kids one helmet at a time!
Make It A Great Day!!
Howard Spiva
Howard@Spivalaw.com
A Proud supporter of
The Justice for Children Foundation
www.headsinhelmets.com
Children's injuries are no accident
Spiva Law Group
Trial Lawyers
1137 Mohawk Street
Savannah, Ga. 31419
(912) 920-2000
www.spivalaw.com