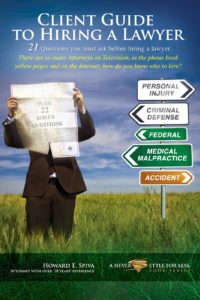 21 Must-Ask Questions for a Personal Injury Lawyer
The Lawyer's Expertise and Reputation
1. Does your law firm have a rating by Martindale-Hubbell or www.AVVO.com?
(Before you hire a lawyer, or if a lawyer is on the other side of a case, you can look up his or her rating.)
2. What are the qualifications and experiences of the people (both attorneys and non-attorneys) assigned to handle day-to-day duties of my case at your office?
3. How many different types of cases do you handle? Do you limit cases, or focus or specialize in an area of the law?
4. Do you try lawsuits or do you refer all your cases to other law firms or attorneys for trials?
5. Have you ever been sued for legal malpractice by a client?
6. Do you carry errors and omission or malpractice insurance?
7. Have you ever been disciplined by the state bar of any state?
Experience in my type of case
8. How much experience do you or your firm have in representing people that need a lawyer for ________ ( a divorce, a speeding ticket, bankruptcy, personal injured, etc.)?
9. Do you write articles, seminar papers, or blogs on my type of case? If yes, where can I read them or get a copy?
10. Have you published any books on the subject of my case?
11. Do you commonly speak at lawyer seminars or teach other lawyers on the subject of my case?
Warning: Many TV lawyers don't handle cases. They broker or refer out some or all of their cases. Here are some questions to flush them out.
12. How many offices do you have?
13. How many attorneys are in each office? (Having a small office with only 1 attorney in your City is a red flag.)
14. Who works out of your local office in my city? (Attorneys? Staff?)
15. What office do you work out of?
16. What city do you live in?
Does the lawyer you are hiring live in your City or even your state?
Note that this is important for several reasons. Lawyers often know the rules and habits of local judges; understand the attitudes and politics of the local area. For example, you may be suing the local areas largest employer or hospital. It is important to know folks' feelings and opinions on potential defendants or companies.
Geographical Area
17. Are you admitted in the state and superior courts in the city and county where I live? Or admitted where the defendant or other party lives? (This is important because most law suits have to be filed where the person you are suing lives or if the defendant is a corporation, the location of their registered agent or corporate office.) Defendants select the county where they think they stand the best chance of winning a jury trial.
Higher Courts
18. If this case requires a suit in Federal court are you admitted to practice in that district? How long have you been sworn in? How many cases have you tried in Federal court? (Note: Cases often required to be filed in Federal court are cases with out of state defendants such as pharmaceutical companies or car and tire manufactures. Many lawyers are not members of Federal court.)
19. If my case were needed to go on an appeal are you sworn into the appeals court or the Supreme Court of your State?
Professionalism and Professional Recognition
20. Are you a member or officer in any legal professional organizations?
Client Service
21. Do you have report cards or ratings by your former clients? If yes, may I see them?
After getting answers to these 21 important questions you should have an idea of who you do not want to hire.
If you want more information about the lawyer or their firm, we have added 22 extra questions. See part 2 Coming soon.

All proceeds from the sale of this book go to The Justice for Children Foundation, Inc.
Copyright © 2012, 2013, 2014, 2015 by Howard E. Spiva.
All images, photos, slogans and logos have trademarks and copyrights and may not be used or reproduced in any manner whatsoever without the written permission of The Justice For Children Foundation, Inc. and attorney Howard E. Spiva.
All rights reserved. No part of this book may be used or reproduced in any manner whatsoever without the written permission of Howard E. Spiva.