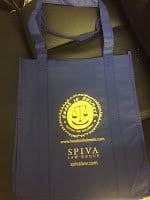 Our new cool SPIVA LAW sun Glasses are in!


We have Helmets for Life (for your kids) protecting children one helmet at a time. FREE for life, you NEVER have to buy your child another helmet.
We also have Spiva Law Group license plates, shirts, hats, magnets, tattoos, window decals, cookies…
We have many other cool items (pens, fly swatters, note pads, chip clips and cuzzies) all on order.
Comes see us anytime at 1137 Mohawk Street behind the theaters behind the Savannah Mall.
MAKE IT A GREAT DAY!!
Howard Spiva
A Proud supporter of
The Justice for Children Foundation
www.headsinhelmets.com
Children's injuries are no accident
SPIVA LAW GROUP
Trial Lawyers
1137 Mohawk Street
Savannah, Ga. 31419
(912) 920-2000
www.spivalaw.com