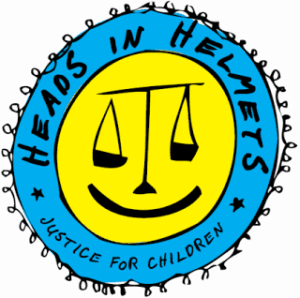 Spiva Law Group of Savannah and Sloan, Bagley, Hatcher & Perry Law Firm of Longview and Houston
Offer Free Safety Helmets in May – National Bike Month — for Kids in Georgia and Texas
Through Heads In Helmets Head Injury Prevention and Safety Program
LONGVIEW, Texas, and SAVANNAH, Ga. (May 6, 2015) – May is National Bike Month and, for Spiva Law Group and Sloan, Bagley, Hatcher & Perry Law Firm, this month presents a perfect opportunity to offer free bicycle safety helmets for kids in Texas and Georgia. National Bike Month is sponsored by the League of American Bicyclists and is celebrated throughout the United States. (visit www.bikeleague.org/bikemonth).
Spiva Law Group of Savannah (www.spivalaw.com) and Sloan, Bagley, Hatcher & Perry Law Firm of Longview and Houston (www.sloanfirm.com and www.sloanfirmhouston.com) are committed to preventing traumatic brain injuries in children by distributing free bicycle safety helmets through the Heads In Helmets campaign. As of April 2015, these two law firms combined have distributed approximately 15,000 free safety helmets; they custom-fit each child with the help of a lawyer, legal assistant or volunteer as part of the Heads In Helmets program. Both firms actively participate in festivals, church fairs, health and safety expositions and other special events to custom-fit and distribute free safety helmets throughout the year.
"The Centers for Disease Control and Prevention report that U.S. emergency departments treat an estimated 135,000 children ages 5 to 18 each year for sports-related brain injuries. Most of these injuries are concussions, and the children do recover. But, in some cases, the injuries cause serious and long-lasting damage," commented Howard Spiva, founding partner of Spiva Law Group.
In 1999, Spiva established The Justice For Children Foundation and the Heads In Helmets safety program (www.headsinhelmets.com) in Savannah. Then, in 2013, The Sloan Firm became the first Heads In Helmets national ambassador. Children aged 4 to 14 are the primary recipients of the helmets and must be accompanied by an adult, parent or guardian to receive a free safety helmet. Staff members and volunteers affiliated with The Sloan Firm and Spiva Law Group ensure that each child receives a custom fit to maximize safety and comfort.
"Any parent or guardian in northeast Texas, southeast Texas or Savannah, Ga., can contact us for a free safety helmet for their child.  We have a team of trained volunteers who custom-fit safety helmets for kids, and we have created solid referral networks with pediatricians close to our offices in Texas and Georgia," explained Kevin Fullen, Texas Ambassador for Heads In Helmets and administrator for The Sloan Firm's Longview and Houston offices.
The Sloan Firm won top honors in the Best Public Health/Safety Initiative category of PR Daily's 2013 Corporate Social Responsibility Awards for its Heads In Helmets community outreach program. Spiva Law Group has won 12 awards, with some of them being the 2011 Reader's Choice Award from Savannah Morning News, the 2011 Outstanding Service to the Community Award from the Savannah Bar Association, the 2011 Community Service Award from Georgia Trial Lawyers Association, and the 2011 Home Town Hero Award from WTOC TV.
To elevate the Heads In Helmets campaign to a national level, Spiva Law Group and The Sloan Firm are working together to recruit and train other law firms in the United States. Their mission: to equip even more children with free safety helmets and to help parents, guardians, teachers, coaches and youth leaders reduce the risks of head injuries that can lead to death or disability. Information packets explaining more about the Heads In Helmets Ambassador Program, roles and responsibilities are available by contacting Howard Spiva, (912) 920-2000 or by email at howard@spivalaw.com.
More About Spiva Law Group
Howard E. Spiva has been practicing law in Savannah, Ga., for 30 years. He limits his practice to serious personal injury, wrongful death and litigation with an emphasis on premises liability, trucking, brain injuries and claims involving children. He earned his reputation in Savannah as the "kid's lawyer" for successfully fighting for the rights of seriously and catastrophically injured children. He champions the rights of wrongfully injured men and women with his Spiva Law Group team. Spiva Law Group's staff is trained in personal injury claims, death claims, car wrecks, accidents, serious injuries, disability, injured workers, traumatic injury, brain injury, injuries on waterways, trucks or motorcycle collisions, slip and fall, back, spinal and brain injuries, closed head injuries, scarring, broken bones, chemical exposure, premise liability, dangerous products, railroad F.E.L.A. and related matters.
More About The Sloan Firm
The Sloan Firm was established in 1980 and has offices in Longview and Houston, Texas. The Sloan Firm has an impressive track record in negotiations and litigation in its primary practice area of personal injury law with three board-certified attorneys in this practice area. The firm's attorneys also have extensive experience in commercial law, employment law, product liability, insurance litigation, work place injuries, ERISA, and oil and gas law. The Sloan Firm has successfully litigated on behalf of its clients' cases involving product defects, traumatic brain injury, spinal cord injury, work injuries, medical malpractice, drunk driving accidents, trucking accidents, motorcycle accidents, highway defects, burn injuries, premises defect, sexual abuse, sexual harassment and wrongful death. For more information on The Sloan Firm or its attorneys, please visit www.SloanFirm.com or call toll free at 800-730-0099.