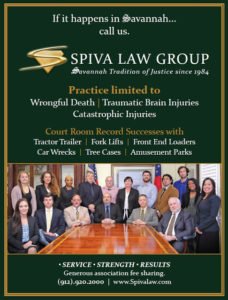 Spiva Law Group: Champions for their Clients
How Spiva built a name as the firm of record for catastrophic injury cases
Longtime Savannah plaintiffs' personal injury attorney Howard Spiva was only 6 years old when his family was struck by a tragedy that would ultimately shape the course of his career — and his entire life.
Spiva's father, a mechanic from Georgia's rural mountainside, was the victim of a workplace shooting, is life taken by an unstable coworker. As a result, his family's stability was shaken."
As a small child, I sat through the trials," Spiva recounts.
"My mother was hospitalized, and then [my brother, sister and I] were passed around."
Rather than allowing his father's loss to become a barrier, Spiva turned it into a lifelong mission: For early 35 years, Spiva has focused on representing catastrophically injured individuals and the families of wrongful death victims in Savannah, throughout Georgia and beyond.
The path to forming Spiva's namesake plaintiffs' firm — and transforming it into the institution it is today — was winding. Spiva's first job was at age 11.
He entered college at 16 and worked his way through law school night classes with a hodgepodge of occupations: skate center manager, auto mechanic, title examiner, real estate broker. Spiva was relentlessly focused on his goal while gaining knowledge and life experience in these fields.
He's always been a fighter: He even obtained his pilot's license and has studied multiple martial arts for 40 years.
"I know firsthand what it's like to have someone wrongfully taken — for a family to lose someone in a way that's completely preventable," says Spiva. "Going through that at such a young age is what ultimately pushed me into the courtroom. I can't ever remember wanting to be anything but a lawyer and help people."
Today, the 20-member Spiva Law Group – six attorneys and a 14-person support staff, many of whom have been with the company for 15-plus years — is best known for handling complex traumatic brain injury cases and wrongful death cases, representing injured young children and their families in such matters.
Other practice areas include trucking collisions, industrial site injuries and premises liability cases.

In 2013, Spiva and his partner Clay Davis won an unprecedented $12 million verdict against the City of Savannah after a tree limb fell from a live oak, impaling their client in the passenger seat of a pickup truck. She received catastrophic injuries, losing her right leg and causing extreme damage to her pelvic region.
"We deposed 75 witnesses and experts in that case, and I'll stake our knowledge of trees against any lawyer in the country," Spiva notes, explaining the case's complexity. "We even hired an ant expert."
Located in a port city, the firm also handles many cases involving tractor trailers and industrial injuries caused by fork lifts and other heavy equipment.
But regardless of how and why clients end up at Spiva Law, the firm's goal is always the same: to maximize recoveries.
The firm relishes its role as the little guy in countless David vs. Goliath courtroom scenarios.
Spiva's firm fearlessly and successfully opposes well-funded, well-defended adversaries — including some of the country's largest corporations, insurance companies and health care facilities — and wins.
Doing so requires a steely determination and creativity. Spiva and his team once even purchased and assembled a full-sized roller coaster to recreate an amusement park injury and show how the poorly maintained equipment failed.
"We are not the traditional law firm, and I am not the traditional lawyer," Spiva says. "I drive a pickup truck, wear a Mickey Mouse watch and bring my dogs to the office. The defense and insurance companies worry because we can talk to the average juror."
"There's no law firm that will out-work or out-prepare us. We are on the cutting edge in the courtroom and always looking for ways to improve our client's story and message to jurors."
There also aren't many lawyers who are as willing as he is to turn down multi-million-dollar settlement offers, but Spiva has been honing the intuition on which he stakes his practice since 1984.
In one case, that intuition allowed him to walk out on a $5 million offer for a brain injury case. Spiva's firm eventually resolved the case that same day for $9.65 million.
"One thing that sets us apart: We don't just take the low-hanging fruit; we'll take the verdict instead," Spiva says.
To Spiva, every case is an all-in effort that involves every member of his _ rm. _ is includes everybody from attorneys, paralegals and in-house investigators to legal assistants, secretaries and administrative staff and the office courier.

"Everyone's opinion is valuable, everyone is important and working as a team is a vital requirement," he says. "Recognizing that fuels our creativity and our passion. It brings a lot to the table."
Spiva is also at the helm of a nonprofit: The Justice for Children Foundation (headsinhelmets.com). this organization has worked to reduce the incidence of preventable head injuries by distributing more than 100,000 free bike helmets to children around the country.
He also spends considerable time lecturing on trial techniques to bar and legal associations, authoring articles on matters pertaining to the practice of law and presenting at conferences (more than 250 and counting).
A considerable portion of Spiva Law's caseload is derived from a robust attorney referral program. In one recent case, the associated attorney's net fees were higher than the amount for which he had offered to settle the entire case, before Spiva Law became involved.
"If it's Savannah, call us," Spiva says, noting his deeply rooted experience with local defense attorneys, judges, city and county officials, Savannah professionals, physicians, police officers, local Chamber of Commerce members and more.
As a lifelong resident, he is well-connected and in tune with the community; Spiva and many on his team attended and graduated from local public schools and colleges here in Savannah.
"This is our city, this is our home town and we're well-positioned to help," he says.