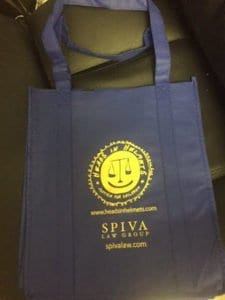 Spiva Law Group Free Swag Bags
The Spiva Law Group is located at 1137 Mohawk Street behind the theaters behind the Savannah mall.
We are proud that you would wear our apparel.
Please ask Sandy or Jen or Michelle or Maggie for a FREE "Swag bag".
The Swag bag includes.
Fun!
Hats, Shirts, License Plates, Sun Glasses, bumper stickers, window decals, fly swatters, Kozzies, news letters, Ink Pens, Chip Clips, Homemade Cookies, fans, magnets, beads with medallions …. AND FREE Helmets!
Also inside are Koozies, Pens, Chip Clips, Fly Swatter, Fans, Newsletters…
Bring your kids for a free Helmet in our "Helmets for Life! Program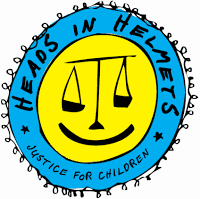 At the Spiva Law Group our practice is limited to clients who have suffered serious, catastrophic, crippling injuries. and wrongful death cases.
Admiralty/Maritime, & Waterway Injuries
Amputation Injuries
Brain Injuries
Car Wrecks
Children's Injuries
Longshoreman Injuries
Mesothelioma Cancer Cases
Orthopedic Injuries
Spinal Injuries
Trucking Wreck Cases
Worker's Compensation
Wrongful Death
*We do not handle non-injury cases
We now have 9 excellent attorneys to provide you with expert legal counsel. Watch for new team members in January 2016.
George L. Lewis
Howard Spiva
C. Clay Davis
William "Clay" Porter II
Peter L. Ruden (NY Only)
M.Christie Register, R.N., J.D.
Katherine Lewis
Katie Sayne (Tenn Only)
Mary Hashemi
We are proud to have these Super Stars on our legal team!
Make It A Great Day!!
Howard Spiva
A Proud supporter of
The Justice for Children Foundation
www.headsinhelmets.com
Children's injuries are no accident
Spiva Law Group
Trial Lawyers
1137 Mohawk Street
Savannah, Ga. 31419
(912) 920-2000
www.spivalaw.com