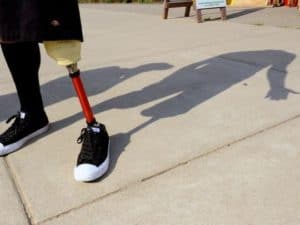 Loss of leg on motorcycle.
On September 1, 2015.
Mr D, a young man, was riding on his motorcycle, he was on the way to work at a military base.
He was riding past of a Walmart store.
A woman who was going to go to the Walmart made a left turn in front of Mr D and hit him while he was – they were going in the opposite directions.
She made the left turn into his path and he was injured.
The injury to his leg was so bad that they had to amputate his leg below the knee.
He's a employee of the Defense Department where he's worked for many years and a very, very – a very nice young fellow, his family are great folks. Salt of the earth.
We investigated, trying to find if whether there was any other insurance.
Dennis did not have any UIM insurance on his motorcycle.
The woman who was driving and injured him only had a twenty-five thousand dollar policy.
After investigating we did an asset check on her and after investigating she had really no assets to speak of.
She worked at the Walmart,and made just minimum wage, and she was an older lady who didn't have very much herself.
So the only money that was available was the twenty-five thousand dollars, even though Dennis had a catastrophic injury of had to have a leg amputation.
We went to the out of town court, attended the traffic hearing for the woman and we spent a lot of time negotiating down Mr D's liens and bills.
The largest lien, the medical lien, the medical insurer lien that his health insurance company would have, and after writing letters and negotiating with the young woman for the lien holder company, she agreed to waive his $190,000.00 dollar health insurance lien.
We waived our attorney fees and costs.
We did as well as we could for the young Mr D.
He ended up getting the entire twenty-five thousand, where he could have instead owed people money, owed the lien holder money and gotten nothing.
Mr D was very grateful for what we did there.
We tried to be generous with his time and waiving ten thousand dollars worth of fees.
Make It A Great Day!!
Howard Spiva
Howard@Spivalaw.com
A Proud supporter of
The Justice for Children Foundation
www.headsinhelmets.com
Children's injuries are no accident
Spiva Law Group
Trial Lawyers
1137 Mohawk Street
Savannah, Ga. 31419
(912) 920-2000
www.spivalaw.com
We are honored that other law firms and attorneys endorse and recommend us…
We are proud of what our clients say about our firm…
TV and Radio Interviews