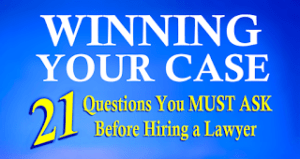 Plus 22 Bonus Questions!
Copyright © 2016
by Howard E. Spiva
Coming soon to Amazon Publishing … all proceeds to Charity.
I wrote this 135 page book so you could learn to ask the hard questions and get ALL the answers you need to make an informed, knowledgeable decision and have the confidence to Hire The Right Lawyer!
I have been a trial lawyer for over 30 years and I know how difficult it can be for clients to distinguish the difference between lawyers and law firms.
There are so many attorneys on television, the radio, in the phone book, on billboards and the Internet. How do you know who to hire? Who is better? Who is the best choice for you?
The yellow pages are no help. Searching through Google is a waste of time. Filling out online forms is a shot in the dark. And forget about radio and TV commercials.
What makes the task even harder is that many state Bar Associations have professional regulations that prohibit lawyers from making statements or claims that they are better or superior to any other lawyer.
That means the best and brightest, most capable lawyers are not allowed to tell you they have more experience and are better prepared to negotiate a settlement or win your case at trial – UNLESS YOU ASK THE RIGHT QUESTIONS!
Table Of Contents
Acknowledgements
Preface: A Note From Howard Spiva
INTRODUCTION: Hiring the Right Lawyer
CHAPTER 1: 21 "MUST ASK" Questions
CHAPTER 2: 22 Bonus Questions!
CHAPTER 3: 21 Answers by Spiva Law
Client Service Ratings
CHAPTER 4: 22 Bonus Answers!
Technology and Cutting Edge
Community Involvement
Awards and Recognition
CHAPTER 5: Serious Injury Questions
CHAPTER 6: Trucking Case Questions
Appendix A: Martindale-Hubbell® Ratings™
Appendix B: State Bar of Georgia Rules of Conduct
Appendix C: Avvo.com Peer Endorsements
Appendix D: AAJ Honors Howard Spiva
Dedication: Our Mission: Helmets For LIFE!
I believe that an attorney can BE MUCH MORE than just a lawyer!
You can do more than what is required.
You can do more than just recover money.
You can give guidance and provide solutions.
You can encourage, inspire, and provide hope.
Make It A Great Day!!
Howard Spiva
(912) 920-2000
Spiva Law Group
Click here: Spiva Law Group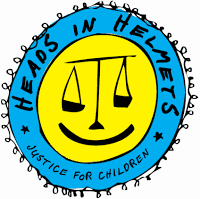 All proceeds from the sale of this book go to The Justice for Children Foundation.
"Helmets For Life" Program
http://www.HeadsinHelmets.com
Never Settle for Less Publications
P.O. Box 61678
Savannah, Georgia, 31420