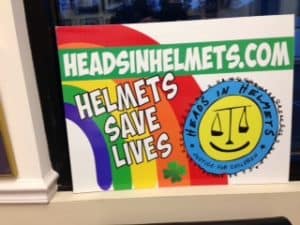 https://www.youtube.com/watch?v=4Kw-LJ42aT0
More video is available at: http://headsinhelmets.com/charity-news/
The Justice For Children Foundation has been protecting kids from brain injuries for over 15 years. Attorney Howard Spiva co-founded the charity in 1999 and began a program to give free bicycle safety helmets to children.
Over the years, Howard's "Helmets For Life" program has provided free safety helmets to families in Savannah and southern Georgia and put tens of 1000's of heads in helmets.
The program has been received so well that the charity is now expanding nationally and reaching out to attorneys across America to help further the cause.
Joining us now is Personal Injury Attorney Howard Spiva from the Spiva Law Group.
Speaker 1: So you started it here with your family by reaching out to attorneys across the country right?
Howard: Yes. What happened was we're walking through my office one day we have pictures on the wall of our clients in different verdicts we received and so forth and my sister who is now passed away said you know look at all the kids we have on the wall so we put all the kids' pictures together and we realized every single one of those brain injuries were preventable.
Howard: And the number one leading cause of brain injury to children now that bicycle helmets are mandated is in child safety seats. Children under five… rear-ended… back of the parent's seat breaks… smacks him in the forehead… plastic helmet takes care of that! And these are the helmets you pay $19.95 at Walmart, $49 dollars at a bike shop.
And our motto this year is Helmets for Life means two things.
One: helmets save lives.
Two: you never, ever, ever, have to buy your child a helmet again.
We'll replace the helmet if they're damaged. If they outgrow them we'll re-measure the child.
They'll get a birthday card with their picture on it reminding them. We have a monthly newsletter for the charity telling what events we're at.
We're at a number of events every month. We'll send them email with safety stuff in it and we just keep in touch with the families and we just provide helmets for children. We do two things: we give away helmets and we have fun. It's all about safety. And we're in the parades we're in the Saint Patrick's day parade. We're in the Tybee Island parade. And so we're just out in the community having a good time helping kids. What you have to do… you can't mandate it, you have to let kids know that helmets are cool.
Speaker 2: Right. They have to look cool they have to feel cool they have to fit right.
Howard: Exactly. And we fit them that's why we bring the child there. We go out into the schools, we go into the communities, we go to the churches, we go the festivals, we go to the health events… We'll put helmets on anyone at no cost.
Speaker 1: We're looking at some pictures there it's important that the helmets fit correctly so as you said, as the child grows they do need to be changed. But take me back a little bit… Like you said, it's been a while, but we've gotten people to realize the bicycle safety. Although I still see kids, it amazes me, I still see kids without helmets on. But now you're talking about kids in car seats!
Howard: Yes. See what you do is you bring the kids to our festivals and they see skateboarders, bicyclists, motorcycle police officers, police officers on horses, it's everywhere football players, baseball players… Virtually kids are wearing helmets everywhere except in cars.
Howard: Race car drivers wear them, bull riders wear helmets. You're putting your child in the child safety seat, and you say "you want to be a race car driver or karate girl" and you just put on the helmet. They'll love them. We put stickers on them and they paint them. You know, you can't mandate it. You have to get them to want the helmets. And that's what we're all about — is educating the parents. And we provide them at no charge, so there's no reason not to put a helmet on the kids. And on the kids not wearing helmets… we have a program where we offer the helmets to the police. They can fill their patrol car trunk up with helmets and if you see a kid on a bike or skateboard without a helmet — give them a helmet instead of a ticket.
Speaker 2: How big a part of it… you making it cool and making it something kids would want to wear… how big a part of that is the parents also wearing a helmet?
Howard: Absolutely. … what you do speaks so loudly I cannot hear what you say.
Speaker 2: But you see a lot of people who put a helmet on their kid and they'll get on the bike without the helmet. And they will ride side-by-side with the child without the helmet on.
Howard: And listen parents, if you don't have a helmet we'll put a helmet on your head. You know we buy these things by the tens of thousands. We've now joined up with a law firm in Texas and we've even gone out there and helped with some of their events. They won state-wide national awards and they've been on billboards and TV. It's Sloan Bagley Hatcher and Perry. They are in Longview, and in Houston and we went out there and just had wonderful days giving away helmets.
Speaker 1: This is the helmet mobile. So you'll see this around. Now tell people again, you are going to events around the area and you're giving out free helmets?
Howard: Absolutely. We've been doing that since 1999. The Sloan Law firm has just taken off and given away fifteen thousand helmets since they joined us just two years ago. That's what we're about. People say "you're a lawyer that does injury cases for children that get brain injuries — and you're trying to prevent them?" I never want to have another traumatic brain injury case again — and so that's what we're about. We're about giving back and trying to prevent injuries because every single injury that I see in a child is preventable.
Speaker 2: Is it need-based or anybody who wants a helmet can come and get one?
Howard: Anybody that needs a helmet.Anybody that wants a helmet. Anybody that doesn't have a helmet. Anybody that has a helmet. Anybody that's tall anybody that's short…
Speaker 2: anybody that has a head.
Howard: You know if somebody comes without a head we'll strap a helmet on them anyway. We don't want to limit it.
Speaker 1: And how can people get this Newsletter? It's very important. It's got a lot of facts in it, it's got a lot of fun information, it's got recipes, it's got everything in it.
Howard: We do a written newsletter and then we do a safety email newsletter. This one goes out every month. We put it out in English and Spanish. We go into a lot of the communities. All you have to do is call our law firm 912-920-2000. Ask For Michelle.
She handles registering of the child. They'll get a birthday card with their picture on it, with a reminder for helmet.
They'll get the newsletters.
We'll update them on the events. We even have an app. You can download our Justice for Children app or you can go to the Justice for Children Facebook page. Just call our office… we'll give you all the information. And if you have an event, and you want us there — we'll show up.