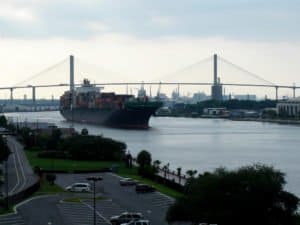 By Howard Spiva, Attorney
Savannah River and Harbor Deepening…Economics vs Conservation vs Dangerous
The harbor deepening of the Savannah River is good news economically. Large ships can being and ship more imports and exports.
Opponents say that the "Savannah Harbor Expansion Project" (SHEP) poses a number of dangers to the Savannah River's fragile ecosystem, but it is also widely viewed as important to the state's economy.
They claim. Dredging activities in the Savannah River, and the saltwater intrusion upriver that dredging causes, have been priority concerns of the Georgia Conservancy for more than 30 years.
The Georgia Ports Authority is aggressively pursuing the deepening of the Savannah River to 47 feet to more efficiently serve the growing demands of world trade. Working with the U.S. Army Corps of Engineers, the Savannah Harbor Expansion Project (SHEP) received the last of all required federal and state regulatory approvals in 2013.
On June 10, President Obama signed into law the Water Resources Reform and Development Act of 2014, thereby allowing the SHEP to proceed to construction.
Supporters Claim:
Deepening the inner harbor to 47 feet MLLW and the entrance channel to 49 feet MLLW;
Extending the entrance channel by 7 miles;
Constructing three bend wideners and two meeting areas; and
Enlarging the Kings Island Turning Basin at the Garden City Terminal.
Current Project Status
The State of Georgia has approved $266 million towards the cost share for the project.
The project also requires $400 million in Federal funding for the project.
Regardless of which side you fall on in the debate…one fact is clear… This type of work is high labor, difficult and dangerous. In 2014 we helped a worker with an in juried knee to recover $300,000.00.
Maritime work is dangerous.
Ship owners, tug owners, dredge owners, and maritime employers have a responsibility under the law to provide a safe place to work and to protect workers from unreasonable exposure to dangers such as:
A gangway plank that is unsafe.
A dredge owner's choice to work with poorly maintained equipment and a partial crew.
A barge operator not retiring worn mooring lines from service.
A shipping terminal pushing its crane operators to rush the movement of cargo simply to increase profit.
A shipyard's failing to follow their own plans for a maintenance job on a customer's tug boat.
A tug boat company's failure to train its captains and replace worn-out gear.
These are a few examples of negligence or carelessness on the part of the employer.
In many cases, owners and employers' carelessness is motivated to profit over the safety of their very own workers.
When this happens, workers often turn to the Spiva Law Group so we can help to make things right.
Know your rights. Please call today
Helpful Definitions
Admiralty Court – A court, usually a federal court, that has jurisdiction over admiralty cases and that applies the special rules and laws of maritime law
Jones Act – A federal law, also known as the Merchant Marine Act of 1920, that governs maritime commerce, the rights of crew members, and maintenance and other requirements of boats and shipping operations.
Jurisdiction – A legal term for a court's authority to hear a specific case; federal courts generally have jurisdiction over admiralty cases.
Longshore and Harbor Workers' Compensation Act – A federal law that requires maritime employers to provide worker's compensation for injuries and illnesses that crew members suffer while serving on a ship.
Maritime – Anything related to navigation on water; another word for admiralty.
U.S. Coast Guard – A federal agency responsible for enforcing all federal laws on the oceans, seas, and other bodies of waters in or near the United States.
Federal district courts usually hear all admiralty cases, but states may also hear. Courts apply special rules and legal principles to admiralty cases.
At the Spiva Law group we only represent injured working men and women and not the companies. Know your rights.
The Spiva Law Group
Local Representation for Injured Maritime Workers
Admiralty law, also called maritime law, is a combination of U.S. and international law that covers all contracts, torts, injuries or offenses that take place on navigable waters.
The Georgia Ports Authority is aggressively pursuing the deepening of the Savannah River to 47 feet to more efficiently serve the growing demands of world trade. A deeper harbor is good news for Savannah Ports and economy.
We represent Injured Maritime Workers
What should be done if you sustain injuries as a Maritime Worker?
You should be aware of the legal requirement to report the incident.
Make arrangements to avail of the statutory payment for sickness
Make arrangements to avail of workers compensation benefits
Establish contact with Spiva Law Firm, and meet with the experienced personal injury attorneys who have specialized knowledge and considerable experience in the federal, state, and international laws governing your case.
If you or a loved one is injured while woking on the water ways, please call us for a free consultation.
Make It A Great Day!!
Howard Spiva
Please click here: Spiva Law Group Web page
Service. Strength. Results.
Our Super Team
George Lewis, Attorney
Howard Spiva, Attorney
C. Clay Davis, Attorney
Peter Ruden, Attorney (NY only)
Christie Register, Attorney, RN. (Of Counsel)
Katherine Lewis, Attorney
Mary Hashemi, Attorney
Kaitlyn E. Sayne, Attorney (Tenn Only)
————-
Andres Arroyave, Senior Litigation Paralegal
Ed Spiva, Investigator
Lisa Loyd, Paralegal
Howard "Gene" Spiva II, Paralegal
Trene Reynolds Harris, Legal Secretary
Maggie Doberstein customer Service and concierge team leader and Charity Manager
Michelitza Melendez. Legal secretary
Jen Maceyko, Clerical and Charity event manager
Kelly Spiva, General Manager and VP of Finance
Rosetta Daniel, Accountant
Krystal Brown, Management Assistant
A Proud supporter of
The Justice for Children Foundation
www.headsinhelmets.com
Children's injuries are no accident