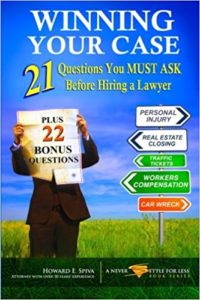 How do you know who is the right lawyer for you?
How can a Lawyer's advertising be misleading?  An example might be a TV commercial or ad which may imply or suggest that the lawyer provides superior service in a particular area of the law or certain type of case.
In fact the lawyer may not even be qualified to handle that case.
What if you learned that the lawyer who you just interviewed isn't even admitted to practice in the court where the law suit needs to be filed or will be removed to?

    An example could be a lawyer standing on top of a truck or telling you how "different" big truck cases are. From this ad, most people may think that they handle trucking cases, the truth could be that they are not experienced in that area of the law, have never handled a lawsuit or trial with such a case, or may not even be admitted to the applicable court.
The lawyer's goal may be to sign up the case and settle quick or hire another lawyer to handle the case. Will an insurance company pay top dollar and full justice to a lawyer they know cant or won't sue them?
Cases involving tractor-trailers 18 wheelers and large commercial trucks are governed by the Federal Motor Carrier Regulations.  Federal law.
These cases also often involve an out of state driver or trucking company. This is called diversity and often requires that the case be filed in Federal District Court.
If it is filed in State Court under a long arm statute or non-residence motorist act, the defendant will usually remove the case from state court to federal court.
Most tractor-trailer wrecks are litigated and the trials held in the federal court system.  In Savannah it would be the District Court for the Southern District of Georgia. The trial attorneys at the Spiva law group are admitted to practice there and have been for decades.
If a lawyer advertises for and signs up tractor trailer cases shouldn't he or she be experienced in that area of the law?
Shouldn't the lawyer you hire be admitted to practice law in the federal courts as well as the 11th Circuit Court of Appeals and the United States Supreme Court? The trial attorneys at the Spiva law group are admitted to practice in those courts  and have been for decades.
We see many lawyers advertising for trucking cases and they're not even admitted in Federal court. I would suggest that almost none of them have ever tried a case in any court.
When you're involved in a serious catastrophic injury you have an important decision to make.              Choose well. 
Make it a great day!
Howard Spiva, proud Attorney
How to hire the right lawyer? You can learn these questions and answers in our new book. Anyone looking for an attorney for any reason, I have published a bestseller book on Amazon,  "WINNING YOUR CASE", that helps a client to understand what questions to ask to find a qualified lawyer. In a catastrophic case, choosing the wrong lawyer can be a disaster. I will provide anyone with a copy of the book at no cost or you can order here:
https://www.amazon.com/WINNING-YOUR-CASE-Questions-Before/dp/1517773717/ref=sr_1_1?s=books&ie=UTF8&qid=1464200147&sr=1-1
Our Charity  https://youtu.be/wMQ8h6t2AqI
OurLawFirm  https://youtu.be/15ZlNNmnaTU
OurWebPage www.spivalaw.com