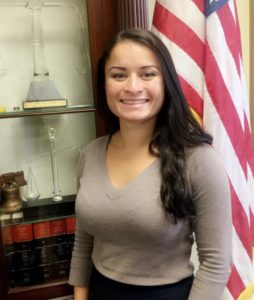 JENNIFER L. MCKIBBAN
Jennifer L. McKibban was admitted to practice law in the State of Georgia in 2017.
She graduated from Georgia Southern University cum laude with a degree in Psychology with a Criminal Justice minor as part of the Georgia Southern University Honors Program. She was inducted into the Delta Epsilon Iota academic honor society. During her undergraduate studies, Ms. McKibban was active in Sigma Alpha Omega, a service sorority, where she participated in a number of volunteer community service projects including Operation Christmas Child, Light the Night, Special Olympics, nursing home volunteer, and the Ovarian Cancer National Alliance. As part of the GSU Honors Program, she participated in an alternate spring program serving as a camp counselor and mentor at a camp for adults with Down's syndrome and autism.
Ms. McKibban earned her law degree at Savannah Law School where she focused her studies on litigation and mediation. She was a member of the Federalist Society and Environmental Law Society.  She served as a volunteer mentor to first-year law students and worked as a legal intern with a local firm.
Though she lived in other states and Germany as a child, she has spent most of her life in Savannah and considers it home. She has a heart for helping people in Savannah.  She is thrilled to be part of the Spiva Law Group team because of its top notch legal work in the areas of wrongful death and serious personal injury cases as well as its focus on charity work, namely Justice for Children.
When asked why she chose to join the Spiva Law Group, she said, "The suffering of children has always been something that ignites my sense of injustice. It is the responsibility of caring and capable people to secure justice for disadvantaged and voiceless people, especially children. Years ago, I thought I wanted to be a prosecutor; I did not see myself as a personal injury attorney.  I was led to join this firm, however, and have discovered that the Spiva Law Group presents a great opportunity for me to help people, including children."
Ms. McKibban said she chose to practice law in Savannah because she loves the city and its people.  "When I joined the Savannah Bar Association, I read a quote from one of its judicial members, Judge Robert Falligant, that I will never forget and that perfectly expresses my sentiment. He said, 'I'd rather be a fiddler on the coast of Georgia than a harpist in the Kingdom of Heaven.' I am excited to practice law here."
At the Spiva Law Group our practice is limited to clients who have suffered serious, catastrophic, and crippling injuries.
Make It A Great Day!!
Howard Spiva
A Proud supporter of
The Justice for Children Foundation
www.headsinhelmets.com
Children's injuries are no accident
Spiva Law Group
Trial Lawyers
1137 Mohawk Street
912-920-2000