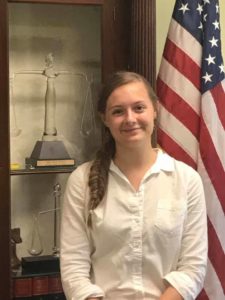 Aislinn R. Porter is a third-year undergraduate student at the University of Georgia and is majoring in History with a minor in Classics. She is a local member of Phi Alpha Theta, or the University of Georgia's historical society, and attends the University of Georgia with the Zell Miller Scholarship.
She has lived in Savannah all of her life and graduated from Islands High School in 2016.
In high school, Ms. Porter was a member of the mock trial team, which piqued her interest in studying law.
She has worked as a legal intern with Spiva Law Group for the past four years, where she started out as a court runner and advanced to her current position as a part of Spiva Law Groups' legal support staff.
As part of the legal support staff team, Ms. Porter helps the attorneys and legal assistants by drafting legal documents, proofreading legal pleadings and documents, and by filing all necessary law documents.
Additionally, Ms. Porter has volunteered with Justice for Children Foundation Charity for numerous years.   http://www.HeadsinHelmets.com
She believes that preventing injuries and ensuring the safety of children should be one of the community's top priorities, and she is glad to be a part of an organization that does just that.
About a year ago, Ms. Porter decided to further her studies abroad. While she had always been interested in law, her experiences abroad made her realize that her true passion lies with International Law. She wants to help others understand and accept cultural differences, as well as to help defend and define international laws and human rights. Ms. Porter is still completing her undergraduate degree, but hopes to attend law school in Atlanta following her graduation from the University of Georgia.
——-
Her father, William Clay Porter,  is an attorney at the Spiva law group.     https://www.spivalaw.com/attorneys/clay-porter/
She is also my granddaughter. ~ Howard  https://www.spivalaw.com/attorneys/howard-spiva/