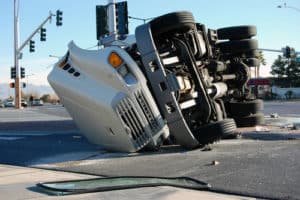 The National Highway Traffic Safety Administration (NHTSA) announced in October 2018 that 2017 highway fatality numbers decreased after two consecutive years of large increases. However, combination trucks involved in fatal crashes increased 5.8 percent.
The 841 occupants of large trucks and 3,450 occupants of other vehicles killed in crashes involving large trucks in 2017 were both increases from 2016, but the 470 nonoccupants killed was four less than the prior year.
According to the Large Truck and Bus Crash Facts report from the Federal Motor Carrier Safety Administration (FMCSA), the 4,564 fatalities in large truck and bus crashes was the eighth straight increase after fatalities hit a low for the 40-year period with only 3,619 in 2009. While the number of fatal crashes involving large trucks or buses decreased 34 percent between 2005 and 2009, it increased 28 percent between 2009 and 2016.
How Common Are Truck Accidents?
The FMCSA also reported that 125,000 large trucks and buses were involved in 119,000 injury crashes injuring 180,000 persons. Additionally, 443,000 were involved in 418,000 property damage only (PDO) crashes.
According to the Georgia Governor's Office for Highway Safety, the 26 occupants of large trucks killed in 2015 matched the total from 2013. There were 28 large truck occupant deaths in 2014, 24 in 2012, and 27 in 2011.
Common Causes of Truck Accidents
Commercial truck crashes can have any of a number of possible causes. Some of the most common kinds of causes include:
Driver error
Defective parts
Speeding
Failure to maintain vehicle
Distracted driving
Overloaded trailer
Drunk or drugged driving
Driver fatigue
Improperly loaded cargo
Keep in mind that multiple parties could bear liability in these accidents. Some possible liable parties may include:
Trucking company
Truck driver
Truck and trailer owner
Cargo owner
Freight broker
Truck part manufacturer
Warehouse owner
Maintenance company
Other drivers
You should contact an attorney as possible in order to quickly start an independent investigation of the cause of the crash, as well as all potentially liable parties and sources of insurance coverage.
Types of Injuries Caused by Truck Accidents
Some of the injuries people suffer in truck accidents include:
Neck Injury
Eye Injury
Nerve Damage
Organ Damage
Paralysis
Quadriplegia
Paraplegia
Internal Bleeding
Burn Injuries
Back Injury
Amputation
Many injuries result in significant medical expenses. Some victims face challenges returning to work.
Truck Accident Fatalities
When a person is killed in a truck crash, the surviving family members have two years from the date of death to file a claim. This is a different statute of limitations than the usual personal injury claim, as the date of a person's death could be much later than the date of the accident.
The spouse or children of the deceased usually are entitled to bring the wrongful death lawsuit. When no surviving spouse or children exist, a claim can be brought by the surviving parent or parents of the deceased, or the deceased person's personal representative.
How Can Spiva Law Help Me?
If you sustained catastrophic injuries or your loved one was killed in a commercial truck crash in Georgia, do not hesitate to seek legal representation. Contact the truck accident attorneys at Spiva Law, and let us help you seek the financial compensation and justice that you deserve.
Our firm has recovered more than $200 million for our clients. Call us or contact us online to receive a free consultation.