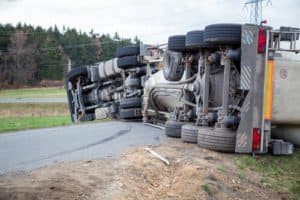 Due to an increasing number of fatalities in work zones in our state, authorities are urging drivers to use caution when driving near or through areas of construction or repaving. Drivers in passenger vehicles and commercial truck operators are encouraged to pay attention to signs, obey directions from flaggers, slow down, and refrain from tailgating. 
Unfortunately, despite the public safety awareness campaigns, accidents still occur frequently in work zones, and some of the most devastating crashes are those involving commercial trucks. 
According to a 2019 distracted driving study released by the Georgia Department of Transportation (GDOT), road construction fatalities increased 74 percent from 2014 to 2016. Fifty two people died in work zone accidents in 2018 alone, according to GDOT and the Atlanta Journal-Constitution. 
At Spiva Law Group, our experienced truck accident lawyers have seen firsthand how dangerous trucks can be on the road, and especially in work zones. Contact us now for free consultation if you've been injured in a road construction accident involving a heavy truck. 
Causes of Road Construction Truck Accidents in Savannah
Some of the most common causes of truck accidents in work zones include: 
Failure to reduce speed 

Ignoring signs, signals, and other safety warnings

Failure to obey directions from roadside flaggers

Failure to observe workers on or near the roadway

Tailgating 

Lane changing or merging errors

Intoxicated driving
How to Avoid Truck Accidents During Construction
When you are driving in a construction zone near a commercial truck, always be mindful of the truck's "no-zones," or the large areas directly behind and to the left and right of the vehicle where the driver cannot see you. 
Make sure to slow down and obey all signage in construction zones. Make sure to leave ample distance between you and the truck, and allow the operator additional room when lanes merge to give them space to safely change lanes. 
Who Could Be Liable for a Construction Zone Truck Crash?
Any commercial truck accident is bound to be far more complicated than a regular car crash because it is often possible that multiple parties could be liable. While truck drivers are commonly presumed to have been negligent, other parties could also be liable if a maintenance issue or a defective part caused them to lose control. 
Depending on the circumstances, it is possible for truck owners, trucking companies, maintenance companies, or shipping agencies to be liable. When another driver's negligence caused or contributed to a victim's injuries, that motorist could also be liable. If there was something unreasonably dangerous about the construction zone, the contractor, the state, or another responsible party could be held liable.
How Can Spiva Law Group Help Me?
Were you hurt in a truck accident in a construction zone in the Savannah area?  Make sure to seek medical treatment and then contact Spiva Law Group to discuss your rights and legal options. 
Call our Savannah truck accident lawyers, fill out a contact form, our use our live chat option to schedule a free consultation with us today and get the legal help you need.